I recently came across the following newspaper clippings that contradict one another and thought they were worthy of sharing. Enjoy!
According to the following newspaper excerpt dated June 13, 1927:
HOUDINI'S DEATH OFFICIALLY LAID TO BOY'S BLOW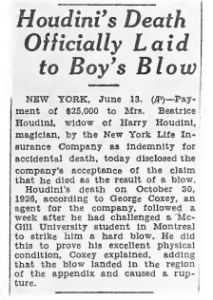 According to the LEWISTON GAZETTE Nov. 1, 1926 Lewiston Maine:
HOUDINI'S DEATH NOT CAUSED BY A STUDENT'S PUNCH
McGill University Professor Denies Magician Struck by Student-Secret of Conjurer' Mystic Performances Sealed in Mystery of Death

MONTREAL.  Nov. 1 Harry Houdini did not die of an injury received on Oct. 22 but was so sick when he came here that he was under care of a trained nurse the two men connected with his Montreal appearance asserted today.

The magicians family in Detroit expressed the opinion that the fatal illness was due to a blow dealt by a McGill University student in testing the magician's strength.

Abie Wright, manager of the local theatre where Houdini recently appeared, said Houdini was ill when he came to Montreal and forced himself, with great difficulty to go through with his performance.

Dr. William D. Tait, professor of phychology at McGill University where Houdini delivered a lecture before the McGill Union, said there was no encounter between the magician and a student, as reported from Detroit.
So was it illness or accident?  Did the blows aggregate an existing condition?
It was vital his death be ruled an accident as opposed to being caused by a physical ailment in order to collect double.
An interoffice memo from a Mr. Cook to a Mr. McCall summarizing the New York Life Insurance Company case mentions that although there were rumors that Houdini had been suffering from stomach trouble prior to this time we have been unable to verify them and I think it must be conceded from the doctors statements and from affidavits submitted to us that the appendicitis resulted from the blows.
Special Thank You to Pat Culliton (aka Houdini's Ghost) for Cook to McCall reference.
ADDENDUM
According to Bernard C. Meyer:
Abdominal trauma has also been cited as a cause of peritonitis when it resulted in the rupture of an already diseased organ or abscess. This raises the possibility that Houdini had been afflicted with an inflamed appendix before he had been punched in the abdomen by Mr. Whitehead. Although there is no record of his having suffered symptoms referable to such a condition prior to the blow, one observer, Doctor William D. Tait, professor of psychology at McGill, who escorted Houdini to the lecture platform on the afternoon of the nineteenth, noted that at the conclusion of his talk he sat down immediately, "as he was suffering great pain from his fractured ankle." Conceivably, it was his abdomen that was causing his distress and not his ankle, which had been fractured eight days earlier.  This account appeared in the November first issue of the Montreal Daily Star under a headline which read: "Houdini . . . looked ill at lecture." A newspaper reporter claimed to have seen "the stamp of death on his countenance." [Houdini: A Mind in Chains, pages 176 – 177].
Does the size of his appendix ("a long affair") indicate it was diseased?
Special Thank You to Dorothy Dietrich and Dick Brookz for the Bernard C. Meyer reference.