According to the various websites, Houdini's classic book "A Magician Among the Spirits", was allegedly co-authored with C.M. Eddy Jr. but he is not credited in the book.  This was news to me, so I decided to see what (if any) involvement Eddy had with "A Magician Among the Spirits".
The first question that came to mind was when did Houdini and Eddy first know each other?
In Joshi, p. 108-111, Letters From New York, Night Shade Books 2005, we learn from a letter by HP Lovecraft to his aunt (on 10 February) that CM Eddy has come to New York unexpectedly. The date is Sunday, 1 February 1925. He states, "unexpected guest … CM Eddy … on literary business, interviewing magazine editors & stopping with Houdini up in west 113th Street …" Lovecraft continues, "Eddy had an engagement at Houdini's house at midnight, so we had to hustle … I piloted Eddy to Houdini's home via the Bronx subway, I then returned …". [chrisperridas.blogspot]
I could not find any earlier sources, so based on Joshi, Houdini and Eddy first met each other no later than 2 February 1925. But, "A Magician Among the Spirits" was published in May 1924 well before this face to face meeting.
In case you are wondering, Eddy and Lovecraft most likely first met around August 1923. [chrisperridas.blogspot]
BTW: Houdini gave Lovecraft an autographed copy of "A Magician Among the Spirits":
"To my friend, Howard Lovecraft/Best Wishes,/Houdini/ "My brain is the key that sets me free."
In 1924, Houdini, Lovecraft and Eddy had peripheral connections to "Weird Tales" magazine:
C. Henneberger, the publisher of "Weird Tales", tried to increase readership of the magazine by bringing Harry Houdini on board. This resulted in three issues featuring Houdini:
"The Spirit Fakers of Hermannstadt" (March to April 1924), "The Hoax of the Spirit Lover" (April 1924) and "Imprisoned with the Pharaohs" (May/July 1924).  The last was by Lovecraft where he rewrote a strange narrative which Houdini related orally to Henneberger.
Lovecraft wrote the story for Houdini in February 1924, and met Houdini in person by October 1924 [Date is from "An H.P. Lovecraft Encyclopedia" by Joshi].
The author or authors of the others have not been identified.  Mike Ashley's The Houdini Chain found in Postscripts says Walter B. Gibson denies being the author and Mike Ashley speculates that they may have been the work of Clifford Eddy who worked as Houdini's booking agent [?] at that time [?].  He had sold several stories to "Weird Tales", some revised by Lovecraft.
Ironically, Mike Ashley also mentions that virtually everything attributed to Houdini was ghost written; He says, that even "A Magician Among the Spirits" was written primarily by Oscar Teale and based upon Houdini's notebooks, though Houdini cast and editorial eye over it.
We know that Eddy had involvement with "The Cancer of Superstition".
But so far, I haven't found any concrete evidence that shows Eddy had any involvement with "A Magician Among the Spirits".
However, there is evidence that Teale may have played a role.
In a letter dated August 10, 1931, Teale writes to Julian Proskauer: "Having originally written Houdini's 'A Magician Among The Spirits' feel that I am fairly conversant with all phrases of the damnable work".
See Potter & Potter August 2014 Auction Descriptions below for Lots 68 and 20.
Lot 68: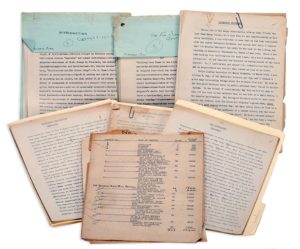 Description: Houdini, Harry. A Magician Among the Spirits original manuscript. Likely a second or third draft of Houdini's last book exposing and explaining the history of modern spiritualism and the methods used to defraud the public by an array of underhanded individuals who claimed an ability to communicate with the dead. Included here are original typescripts and carbons of over half of the book, including the following chapters: "Introduction" and a synopsis, "The Fox Sisters," "The Davenport Brothers," "Odelia Diss Debarr," "Palladino," "Slate Writing," "Spirit Photography," "Ectoplasm," "Investigations – Wise & Otherwise," and "Exposé of Methods." Many chapters include a one- or two-page summary. Hundreds of handmade corrections in pencil and ink are scattered throughout, and include considerable underlining, strike-throughs of entire paragraphs, and corrections. Dozens of pasted-in additions, mostly in the form of footnotes, have been added to the original 4to pages. Some corrections likely in the hand of Houdini himself, though the bulk of the holographic notes are most likely in the hand of Oscar Teale, a well-known magician and author in his own right, and Houdini's secretary and aide in investigating the spiritualists and their methods. A Magician Among the Spirits was published in 1924. However, based on a comparison of the text in these pages, the manuscript more closely reflects a revised edition Houdini was preparing at the time of his death, as the prose more closely matches a working manuscript of that edition published posthumously, in 1996 (see lot 20). The text here is strikingly similar, but not identical to that manuscript. Hundreds of pages in all, typed on rectos only, some with plain manuscript wrappers and bound at tops of sheets, wrappers hand lettered with title names, other chapters loose.
Lot 20: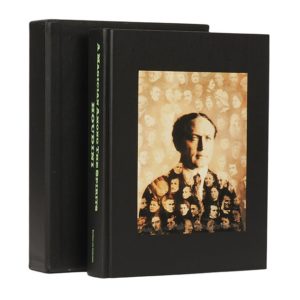 Description: Houdini, Harry. A Magician Among the Spirits. The Original Manuscript. [Washington, D.C.]: Kaufman and Greenberg, 1996. Black cloth with photograph of Houdini and matching slipcase. From an edition of 1000 copies. 4to. Very good. A facsimile of the manuscript for a revised edition of Houdini's book exposing fraudulent mediums.
Notes:
When first published in 1924, Houdini's manuscript was dramatically cut from 175,000 words down to 75,000 words. That is, the editors at Harper & Brothers rearranged, rewrote and above all cut out huge portions of the text. Displeased with the published work, Houdini was preparing this typescript for a second edition at the time of his unfortunate, and untimely, death. The typescript contains several holographic notations in Houdini's hand as well as other revisions in the hand of his assistant Oscar Teale [or is it in the hand of C.M. Eddy?].