In the 1920's, Houdini wanted to write three books of magic for beginners. Each book would be dedicated to clearly demonstrating simple magic tricks that the reader could do. Magician Walter Gibson collaborated on the project.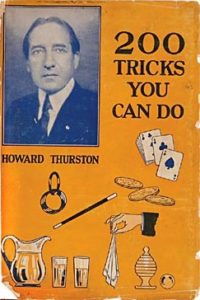 Gibson had just done research on such tricks for Howard Thurston for the ghost-written book 200 Tricks You Can Do and had literally hundreds of extra tricks as a result of his research: thus there would be no duplication in Houdini's books.
The first book was to be composed of simple card tricks that could be done with an ordinary pack. The second book was to contain tricks with special packs of cards.  The third book was to cover simple tricks of various types. By early October, Gibson had the first book complete and was ready to deliver it when news came of Houdini's sudden death in Detroit, on October 31, 1926.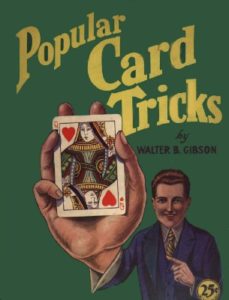 Later, the book was published by the E.I. Company under Gibson's own name, with the title Popular Card Tricks. This forty-eight page book included 91 various card tricks with suggestion on presentation.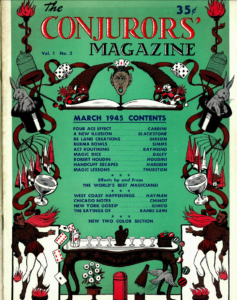 The material for the second was all outlined and twenty years later, Gibson wrote up many of the tricks for a series of articles in a revival of Houdini's old Conjurer's Magazine, which he edited, with Hardeen as Emeritus.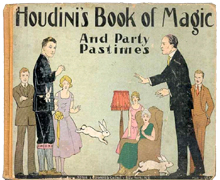 The third was published in 1927 by Houdini's wife who found the manuscript among his papers. It was titled, Houdini's Book of Magic And Party Pastimes.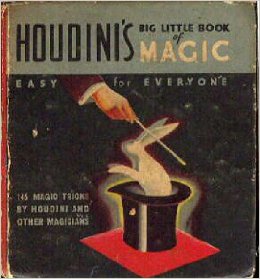 Later, another publisher, Whitman obtained rights to the manuscript in 1933 and arranged to print it in the Big Little Book (BLB) format but the material proved insufficient to fill the required number of pages. So, the first 114 pages are from the Houdini manuscript.  The added tricks and puzzles are from other magicians.  The BLB title page retains the original 1927 copyright date.
UPDATE: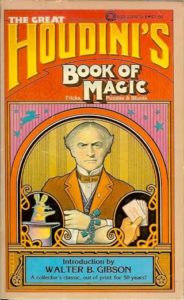 Published during the "Houdini renaissance" of 1976, there is also the paperback edition of Houdini's Book of Magic with a great cover (above) and intro by Gibson in which he tells the story of how the book came to be.  It also carries the 1927 copyright.
Source:
eBay listing for Houdini Big Little Book of Magic
The Great Houdini's Book of Magic with Introduction by Walter B. Gibson [1976]
Walter B. Gibson and the Shadow by Thomas J. Shimeld