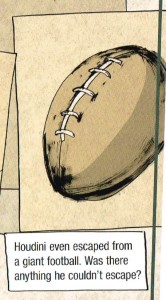 Since today is Super Bowl Sunday, I thought I would share the two times that I am aware of that Houdini escaped from a Giant Football:
During an engagement at the Keith's Theatre, a Boston sporting goods manufacturer had challenged Houdini to escape from a giant football.  The magician was stuffed inside and a chain was passed through the eyelets and padlocked.  After twelve minutes, Houdini reappeared, somewhat disheveled; but the ball appeared untouched, the stitching was intact.   Years later, he repeated the stunt in Pittsburgh and had the entire University of Pennsylvania football squad carry the huge pigskin up the aisle and onto the stage.
The University of Pennsylvania football team was matched against Houdini on the stage of Keith's Chestnut Street Theater in Philadelphia on January 4, 1907.  The entire squad, in gridiron uniform, jogged down the aisle with a giant football (manufactured by the A.J. Reach Company) and lifted it up behind the footlights.  They then manacled Houdini, bent him double to fit inside the opening of the ball.  The handcuff king couldn't turn around inside the football. The pigskin was laced with a brass chain and padlocked.  The ball and Houdini was rolled into his curtained cabinet. Harry was out in thirty-four minutes.
Source:
Houdini The Key by Culliton
Houdini The Untold Story by Christopher
BONUS:
The following cut sequence is from the blue pages of the 1st PRELIMINARY GREEN April 23, 1952 Philip Yordan script for the Tony Curtis Houdini movie:
WASHINGTON, D.C. SEQUENCE
On the stage at Keith's theatre, eleven members of the Yale Football Team, wearing the football uniforms of the period, cart a giant leather football on to the stage.
H, clad only in bathing trunks and securely manacled, is put into the football through the opened lacing, then the players lace it up tightly.
A screen is put around the football.  The football players ring themselves around the screen to make sure no outside assistance can be given H in his escape.
The orchestra plays the Yale Alma Mater Song.  The audience is full of college students.
Suddenly H, wearing a Yale football uniform, comes running down the aisle from the back of the theatre, waving a pair of Yale pennants, to the amazement of the team and the audience.
On stage the football players pull away the screen revealing that the football is still tightly laced.
The audience goes wild.