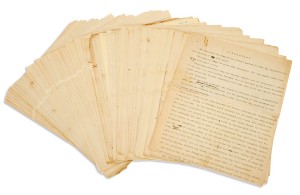 After writing the Astrology Article, Lovecraft's next job for Houdini was to write an article on witchcraft as evidenced by an October 11, 1926 letter to Wilfred Blanch Talman:
"This present season I'm as busy as hell with some special revisory work which I've been doing for the well-known conjuror Houdini. I've done stuff for him before; but last week he performed in Providence, and took the opportunity to have me go over a lot of stuff which required constant consultation. It was the raw material for a campaign against astrology; and being somewhat in my line, (I had a campaign of my own on this subject in 1914) I rather enjoyed the digging up of data—though it was beastly laborious, and forced me to work continuously till night before last with very little sleep. If it doesn't knock out all the star-gazing charlatans in the country, I shall feel deeply disappointed!  My next job for the sprightly wizard is an article on witchcraft which makes me lament with redoubled intensity the lack of a peek at the Waite book."
Just like the Astrology manuscript, the Witchcraft manuscript also exists and has been seen at auction a couple times:
Lot 179 of the October 31st 2002 Swann Auction – Magic: Featuring the Manny Weltman Houdini Collection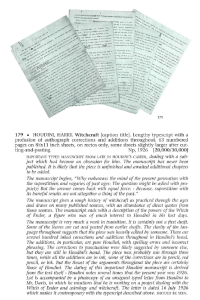 Lot 67 of August 23rd 2014 Potter & Potter Auction – Houdiniana:
Houdini, Harry. Witchcraft. An unpublished manuscript by Houdini. [New York?], 1926.

Detailed and important typescript with a profusion of holographic corrections and additions in Houdini's hand throughout. The subject covered is, broadly stated, witchcraft. Houdini examines the entire subject, and gives a thumbnail sketch of its history, drawing and quoting heavily from published sources. More specifically, near the end of the manuscript Houdini writes in detail about the Witch of Endor, a medium in ancient times who wasreportedly able to summon the spirit of Samuel at the command of King Saul of the Kingdom of Israel. In much the same way Houdini crusaded against spiritualists in his 1924 book A Magician Among the Spirits (several subjects from which appear in passing in these pages), so does this manuscript demonstrate his unwavering crusade against pillars of the spiritualist faith, which so often used Bible stories as support for its cause. A total of 62 numbered pages on 4to sheets, typed on rectos only, some significantly larger after cutting-and-pasting. The professional tone suggests a guiding editorial hand, while the hundreds of corrections in Houdini's hand show his tendency toward misspellings and awkward phrases. Some corrections are in pencil or red pencil. A copy of an unsigned letter regarding Houdini's work on the manuscript, dated July 16, 1926, is included, and shows that this was one of the last publishing projects he was working on before his death. Accompanied by a letter of provenance tracing the ownership of the manuscript.

[Sold for $15,000]
Is it possible that the Astrology manuscript and Witchcraft manuscript were to be part (chapters) of the "The Cancer of Superstition" book that Harry Houdini hired Lovecraft and his friend C.M. Eddy, Jr. to write?
It would be nice to see all of the pieces (outline and chapters) put together and published in some form:
handwritten outline, by H.P. Lovecraft, published in The Dark Brotherhood
handwritten manuscript by Eddy that included revisions with Lovecraft's penmanship, the first chapter ('The Genesis of Superstition') of three is published in The Dark Brotherhood.  According to Eddy family members, the first two chapters were approved by Houdini and the third sent to him while Houdini was on tour.
typescript manuscript (article) , as offered for sale by Potter & Potter, which includes three parts ('The Genesis of Superstition', 'The Expansion of Superstition' and 'The Fallacy of Superstition') not published.
Astrology handwritten manuscript (article) by H.P. Lovecraft not published.
Witchcraft typescript manuscript (article), by H.P. Lovecraft (?) that included revisions with Houdini's penmanship, not published.
Source:
Selected Letters II – H.P. Lovecraft