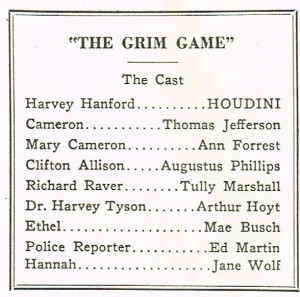 The other day, I received the following comment:
One cast member of the Grim Game was an actor named Ed Martin, who portrayed a character simply known as the Police Reporter. It is hard to judge if he is present in any of the stills you have posted. Have you made any headway in identifying all of the actors in the still from the Grim Game? I have reason to believe that the actor "Ed Martin" was Edward H. Martin, a graduate of the West Point Class of 1898; my goal is to get a picture of him acting in the movie.
Of course I was intrigued by this comment, so I decided to do a little bit of research.
Let's start with what I found out about Edward H. Martin, a graduate of the West Point Class of 1898.
Edward Hugh Martin was born in New York,  July 2, 1874 the same year Houdini was born, which would make him around 45 years old during the making of the Grim Game.
Lieut. E. H. Martin of the Fifth Artillery was dismissed (court-martialed) from the army in 1900.  He was tried at Fort Hamilton on three charges of forgery. [NY Times June 24, 1900]
It is said that he married Gussie McKee, the proprietress of a poolroom, while his court-martial trial was going on.
Ex Lieut. E.H. Martin was arrested on a charge of forgery on June 16, 1901.  Martin's defense at the trial admitted that he was addicted to the use of opium, and said he was "dopy" when he wrote the accounts which were questioned. "Martin is physically very brave. He has saved several persons from drowning and received honorable mention from the army". [NY Times June 17, 1901]
Instead of being sent to prison for 5 years, he was sentenced to 12 months in a penitentiary. [NY Times July 13, 1901]
Martin was arrested for suspected murder in February, 1905 and held until the following October, when his release was ordered, as the body of his partner could not be found. While confined in jail, Martin endeavored to obtain liberty by burning the jail building.  After his release, he came to Lewis-town Idaho, and afterward was arrested in Moscow and Wallace Idaho, on charges of insanity. [NY Times May 7, 1908]
Portland Ore., May 6, 1908, Edward H. Martin son of a former New York contractor, a graduate of West Point, armor expert at Sandy Hook, graduate of Fordham College and the New York Law School, and temporarily employed in the City Engineer's office, was arrested for the murder of Nathan Wolffe.  The crime was committed in Wolffe's jewelry store.  Martin stoutly denies his guilt. [NY Times May 7, 1908]
Is this Edward Martin the actor in the Grim Game?  Who knows; someone believes it is, but we would need them to share why they think this is the case.
Let's now turn our attention to the question of whether the actor Ed Martin who plays a police reporter appears in any Grim Game stills.  If we look at the script from the Grim Game, the only mention of a police reporter appears in scenes 67 and 69 that takes place in a news room.  See my blog, Forty Winks by the Star Reporter, that paraphrases the scenes.  The only publicity still (L302-08) available is below.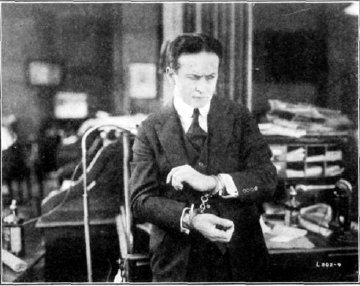 And it only has Houdini depicted.  Now there are other scenes that make reference to reporters, but not police reporters.   If I compare these other scenes with the available stills, there are a couple of stills with reporter(s) in them: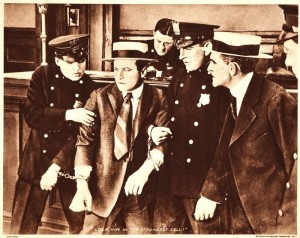 Scene 199 (Still 298-07) above takes place in a Police Station.  Houdini is wildly protesting and attempting to tear loose from the hold that the 2 cops have on him.  The desk sergeant has given up the task of trying to question him at this time and orders him to be locked in the strongest cell.  One reporter seizes phone. [Paraphrased from Paramount Files at Margaret Herrick Library]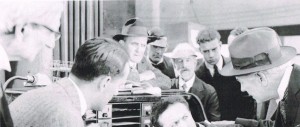 Scenes 151-154 (Still 298-1 snippet above) takes place in the same news room that scenes 67 and 69 took place.  Reporters busy in room.  Houdini comes forward to his desk and sinks in his chair.  He has on a dark overcoat and is minus his straw hat that he has been wearing through rest of the picture.  Several of the men have noticed his strange actions. One reporter asks, what is the matter? [Paraphrased from Paramount Files at Margaret Herrick Library]
It is possible that one of the reporters above could be Ed Martin, but we have no way of knowing for sure without a photo to compare.
BTW, apparently Ed Martin appeared in a couple other movies:
If these other movies are still around, we could still possibly get a picture of Ed Martin acting in a movie.