Last week, I posted a blog about the Old Man Jefferson Connection which looked at Houdini's connection with Joe Jefferson and Thomas Jefferson.  Joe Jefferson and Thomas Jefferson were sons of actor Joseph Jefferson III who was famous for creating the role of Rip Van Winkle.  Houdini appeared on the same bill as Young Joe Jefferson during his vaudeville days and he appeared with Thomas Jefferson who played Old Man Cameron in The Grim Game.  In that blog, I posted a photo of Young Joe Jefferson but not Thomas Jefferson.   As far as I know, there are no movie stills of Thomas Jefferson from The Grim Game and I have seen and cataloged most if not all of the movie stills from the movie. So what did Thomas Jefferson look like; I combed the internet numerous times and finally found 2 photos at the findagrave.com website: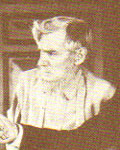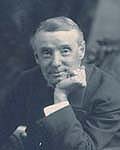 Thomas Jefferson
Birth: Sep. 10, 1856 New York, USA
Death: Apr. 2 1932 Hollywood Los Angeles County, California, USA
Son of actor Joseph Jefferson who was believed to be the earliest actor to appear in films. Married to actress Daisy Robinson, Jefferson followed his father's footsteps as a stage actor for nearly half a century.  One of his greatest stage successes was playing Rip Van Winkle which he did for twenty-five years.  Jefferson was a member of D.W. Griffith's stock company for a time during his career. Actor in numerous films, Jefferson passed away at his home in Los Feliz following a brief illness.
Burial: Hollywood Forever Cemetery, Hollywood Los Angeles County, California, USA
Plot: Section 20B, #168 (unmarked)