Historic Original Houdini Seance to be held at Sojourn Restaurant – The Site of Houdini's First Home in NY, on  Halloween, Tuesday October 31, 2017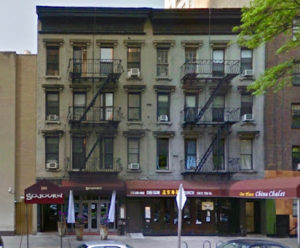 Headed up by renowned magician Dorothy Dietrich   Opening at 11:30 AM, near the time of Houdini died on Halloween.
2017 is the 100th anniversary of Houdini becoming the President of The Society of American Magicians.
The internationally famous Original Houdini Seance event will begin at  close to the exact time Houdini died on Halloween. This will all be free for magicians and fans of Houdini. Complimentary food will be provided.  The Sojourn Restaurant is located at 244 East 79 St., NY., which was the site of his first home in New York City at the age of 13, in 1887.  The  building that was once a boarding house, where young Ehrich Weiss and his father stayed when they first arrived in New York. Amazingly, the building would still be recognizable to Houdini and his father today. The Original Houdini Seances have been done by Dorothy Dietrich for many years at New York's legendary Magic Towne House in New York City, and later at The Houdini Museum in Scranton, Pa., the only building in the world dedicated to the world's most iconic magician.  (http://Houdini.org) New York City was the lifetime home of Houdini.  The Houdini Seances are attended on a regular basis by the closest living relatives of Houdini. The Houdini Museum is under the close guidance of Houdini's family. They have also asked the museum to do upkeep and repairs at the Houdini's Grave. The museum recently received world wide acclaim for replacing the bust of Houdini at his grave that had been missing for 36 years, and for getting Turner Classic Movies to restore Houdini's long lost and best movie, "The Grim Game".
In 1917 Houdini became President of The Society of American Magicians on hundred years ago. . It was a small single club in New York City at the time. Houdini promoted the organization all over the world in what he called the greatest movement in magic history.  He paid, out of his own money, for banquets for magicians in cities all over the world to come have a free dinner, learn about the organization and join if they wish.  It expanded quickly.  It now has hundreds of clubs and thousands of members.  They now take in a half a million dollars each year in dues, and have nearly 2 million dollars in their bank account, thanks to Mr. Houdini.
HOUDINI SEANCE HISTORY
October 31, Halloween, marks the anniversary of the death of Harry Houdini. Each year since his death a tribute in the form of a seance has been conducted on this day. The first ten seances were done by his wife Bess as a tribute and test.  In his effort to challenge the crooked mystics and psychics who claimed they can make contact the dead, he told people to save their money and not be cheated by those who make such claims! Houdini famously said if he, the greatest escape artist of all time, could not escape from the beyond and return, no one could
After ten years Houdini's wife passed on the legacy and tradition to Houdini biographer, friend and writer Walter B. Gibson. Walter B. Gibson was the creator of "The Shadow" one of the most famous radio mystery series of all time. It started out as a novel, a radio show, a television show and then a movie starring Alec Baldwin. The shows catch phrase, "The Shadow knows!" has been repeated thousands of times by comedians and others through the years. Walter B. Gibson helped Houdini in some of his literary projects, and after Houdini died Gibson wrote several early biographies and magic secret books culled from Houdini's private notes that Bess and her lawyer let Gibson use. Before Mr. Gibson died he passed on the tradition to well known magic celebrity, Dorothy Dietrich (http://DorothyDietrich.com).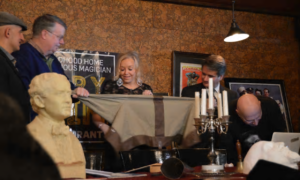 DOROTHY DIETRICH
Dorothy Dietrich has been called "one of the most noted magicians of the late 20th century" by Columbia Encyclopedia, Columbia University Press. She's one of the world's best known magicians and has been called "The First Lady of Magic" and "The Female Houdini". She has appeared in many television specials, and is the first and only woman in history to perform the death defying Bullet Catch in her mouth, that has killed 12 men. It's the "the stunt that scared Houdini" who backed out after announcing he would attempt it. She is also the first and only woman to perform a straitjacket escape from a parachute ride while suspended hundreds of feet in the air from a burning rope, as shown on the HBO special, The World's Greatest Escapes, that she starred in.  She is also known as "The first woman to saw a man in half!" She is considered a leading collector and expert on Houdini. Recently, the Internet's main site for Houdini news, WildAboutHoudini.com, heralded, "She's not only a bonafide legend of magic, but she is a tireless and selfless promoter of Houdini's history and legacy. With her museum, radio show, TV appearances, and her continued upkeep of Houdini's grave site, it could be said that no one is as devoted to preserving Houdini's memory as Dorothy Dietrich." When not traveling, Dietrich performs at The Houdini Museum in Scranton, PA, where she is also a director. It is the only building in the world dedicated to Houdini, filled with artifacts, historical displays and information on Houdini. She has been featured on numerous television shows and channels world wide including the BBC, CBC, CBS, NBC, ABC, Travel Channel, Biography Channel, History Channel, TV Land, "Mysteries at the Museum", etc,
HOUDINI MUSEUM FALL AND WINTER SCHEDULE During the Fall and Winter months The Houdini Museum is open weekends for tours and a magic show, as well as any day of the week for school and bus groups, and magical birthday parties. Reservations suggested. A separate presentation put on by Psychic Theater (http://PsychicTheater.com) "Haunted! Mysteries of THE Beyond." takes place in the evenings. It is a hit fun mystery show that has been running for over thirteen  years. The longest running show of its kind in history
Contact Penny Wilkes
Houdini Museum, Tour & Magic Show
1433 N. Main Ave. Scranton, PA 18508
(570) 342-5555
(570) 383-1821
*****
Historic Original Houdini Seance to be held at Sojourn Restaurant. Houdini's First Home in NY, on Halloween, October 31, 2017