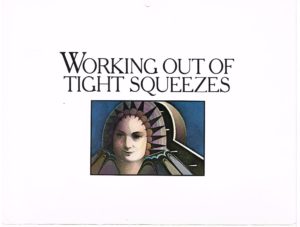 To kick off September, thought I would share a Pharmaceutical Calendar Ad from 1977, I recently acquired about The Perilous Escape From the "Spanish Maiden":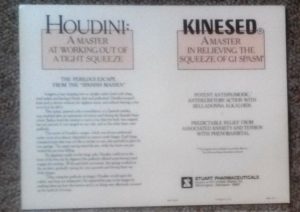 Imagine a man stepping into an upright casket lined with sharp steel spikes and having it firmly shut and padlocked. Houdini escaped from such a device without the slightest injury and without leaving a clue as to how he did it.
The casket, painted with a resemblance of a Spanish maiden, was modeled after an instrument of torture used during the Spanish Inquisition. Spikes lined the interior in such a way that the body was trapped, but not pierced.  It was hinged on one side, and on the other there were padlocks.
[it then goes on to explain in detail how he escaped]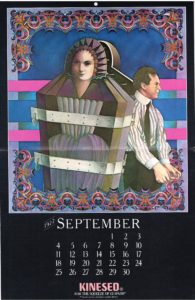 You gotta love the image of Houdini they used from "The Grim Game".