Below is an original 1953 Press Photo I recently acquired of a magician performing a straitjacket escape to promote the release of the Tony Curtis Houdini movie in front of the Paramount theater.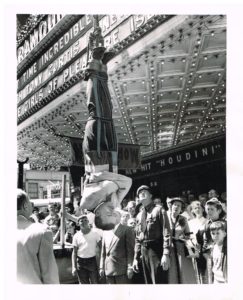 Click on the link below to find out who the magician is and to read the published text that went with the press photo.
While I wasn't born yet for the opening in 1953, the movie did change my life when I saw it as a kid in the 70's.  Below is a Oct 2, 1977 TV guide promotion for the movie, which shows Houdini hanging from a Straitjacket.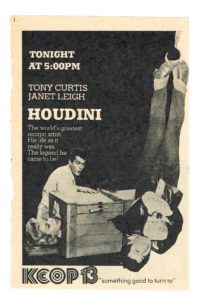 The movie also had a big effect on me in 2015, when the TCM Film Festival screened a rare 35mm print from the Paramount archive.  I felt like I was able to experience the movie like it appeared back in the day.   And to promote the movie, my friends Dorothy Dietrich and Dick Brookz, introduced it and Dorothy performed one of the best straitjacket and handcuff escapes I have seen, which received a standing ovation.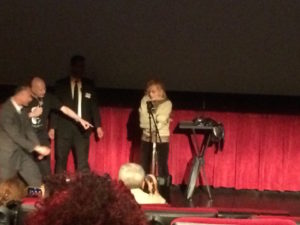 On November 15, Houdini (1953) is due to be released on a new DVD and Blu-ray with a Straitjacket on the cover.