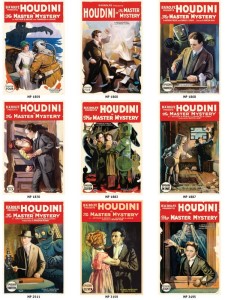 John Cox at Wild About Houdini just posted an excellent blog: Gone With The Handcuff King: David O. Seiznick's Houdini which talks about a Houdini biopic in the 1940s that Hardeen was on board with as the technical adviser.  Then, like so many Houdini biopics before, it vanished in a puff of smoke.
Hardeen was also going to reissue The Master Mystery:
Manny Baum and "Hardeen", brother of the late Houdini, will reissue the 15-two-reel episode serial "The Master Mystery", which starred Houdini, originally released in silent form by Octagon Films, Inc., 25 years ago.  The reissue film will contain a narration and musical background. [Motion Picture Daily Vol. 55 No. 41 Tuesday, February 29 1944]
Unfortunately, I think it vanished in a puff of smoke.