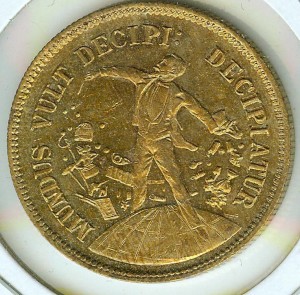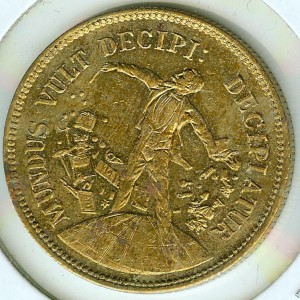 My son wanted to surprise me with something Houdini related for Christmas.  He was intrigued by a listing for a magic token from a shop, that Houdini was once president and owner [1919].  He did some more research, found 3 other Martinka magic tokens for sale and got the best looking one which turned out to be quite unique:
Martinka issued the first palming tokens in the late 19 century.  Not gimmick'd or gaffed in any way, it was designed simply to be easier to palm and show up well when performing.  Over the years they issued multiple designs (LT, AH L/LT, D/D, V/V, Dash 1/Dash 2) and sizes in various materials (Gold, Brass, Copper, White Metal, Aluminum).  You can determine the design by what letter the right hand is below. In the D design, the hand is below the D of DECIPI, but a little to the left.
This half dollar D/D design shows a conjurer (Hermann?) standing astride the top of the world, producing a profusion of objects from the end of the wand in his right hand and from a top hat in his left hand, while around the edge of the field is the legend "MUNDUS VULT DECIPI: DECIPIATUR".  The reverse bears the same design. The Latin phrase translates as: "The world wants to be deceived: let it be deceived".
This brass coin covered with a thin gold wash was issued by Martinka. It is quite scarce and has a story attached to it:
The gold washed tokens appear to have been produced for, or at least used by a professional magician, Frederick Eugene Powell. Since they were the D/D type they were made later than the others.  One of the tricks in which Powell used them employed a picture frame suspended in the air by cords.  The frame had glass front and back and nothing between.  Five gold tokens held in his hands vanished one at a time, immediately reappearing visibly between the sheets of glass. FWK, Jr. acquired this frame and it still had three of the gold pieces in it.  Edgar Heyl acquired his example from the late Dr. Eugene L. Bulson of Fort Wayne.  Many years ago Dr. Bulson bought three of them in mint condition from the Martinkas, so it is obvious this issue could also be considered a commercial production. [The Martinka Magic Tokens by Edgar Heyl and F. William Kuethe, Jr.]
Houdini performed Robert Houdin's Crystal Casket, in which five coins disappeared from Houdini's hands and reappeared one at a time, with loud "clinks", in a small glass casket which was hanging above the stage. [Culliton]
What was Houdini's relationship to Frederick Eugene Powell:
Frederick Eugene Powell was a good friend of Houdini [Kalush]
In 1922, Powell headed one of the four touring companies for "The Houdini Wonder Show of 1922" which was presented in connection with Houdini's film "The Man From Beyond" [Silverman]
After Houdini's death, the Houdini Fraudulent Spirit Medium Lecture was continued by Frederick Eugene Powell. [Sparks]
I hope you liked the story of this Martinka Magic Token; I know I enjoyed receiving it and researching it.
Update:  Another F. E. Powell gold-plated Martinka token in similar condition just sold February 8th 2014 at Potter & Potter Auctions for $360.00 (includes 20% premium).