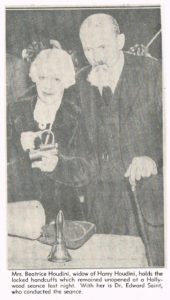 During the Final Houdini Séance in 1936, Edward Saint shared the following:
 "He had safes and vaults in his home, and vaults in banks that his lawyers had access to; but one secret, now made public for the first time, is the fact that Houdini had one safety deposit vault in a bank or trust company in the east under some familiar name other than Houdini, and of which the secret location rested only in Houdini's brain.  In this vault was kept highly secret papers, and into which was always placed a certain glass case of jeweled medals and a diamond question mark pin with a rare pearl drop, a gift from Harry Kellar to Houdini.  The jewel box was always on display in the Houdini home.  But prior to closing the house to go on a vaudeville tour, Houdini always placed this box in the secret vault.  Many things were left untold because of the unexpected death of Houdini in Detroit.  There is a law, a time limit.  Madame Houdini has year by year awaited word that the Federal Government had located or opened the box, long overdue.  Perhaps the vault was rented and paid years in advance.  However, this Secret Vault has never been located to this day."
OR HAS IT?
Last week, I did a post on Bess Houdini's infamous note (once thought by her lawyer to only exist in her imagination) found in a box that was a gift (?) to the Harry Ransom Center from a lawyer (?) that had worked on his estate so many years ago.  Did the contents of this box come from the Secret Vault?  Well, according to Saint, Houdini had multiple vaults, but the Secret Vault (revealed by Saint 10 years after Houdini died?) was under a familiar but different name and its location only known by Houdini. We know, Bess stored her infamous note that spells out exactly how Houdini would communicate from beyond the grave if he could, in a safety deposit box that was not a secret.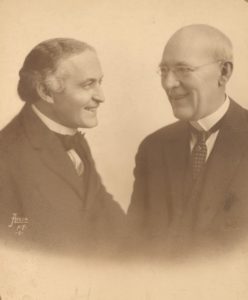 FWIW: A man from Providence (who claims he is the reincarnation of Houdini?), believes Houdini had entrusted the crystal box to the Eddy's (who were employees and friends of Houdini) during his final tour, and it had been in their family since.  Jim Dyer is the caretaker of the family legacy and publisher for his grandparents through his company, Fenham Publishing.  When asked if he has the treasure box, Dyer said that Houdini trusted his grandfather and that Dyer sees his role as maintaining that trust. "My family has a lot of Houdini things, letters and assorted Houdini things, "Dyer said." "I'm hesitant to tell anybody what the family has."  Aware of the lengths to which Houdini and Lovecraft fans will go, he added: "We have them in a safe spot (Secret Vault?)"
[Excerpts from Taughton Daily Gazette article "Houdini's spirit 'led' him to treasure box" by Donita Naylor Oct 31, 2016]
Unfortunately, we have more questions (????) than answers.  This includes where is the diamond question mark pin with a rare pearl drop, a gift from Harry Kellar to Houdini.
WRT the Secret Vault, I will leave you with this thought:
If I were a lawyer, I would say that the Secret Vault only existed in Ed Saints imagination.
Thoughts?